September 2023
2023 Fox Cities Marathon is nearly here
This year's Fox Cities Marathon events take place the weekend of September 15 – 17, 2023. We are at the taper phase, our 16th and final training run this year is again at Crunch Fitness and happens Saturday Sept 9th with routes of 8 miles for our Full Marathoners and 5 miles for our Half Marathoners. If for some reason you were not able to prepare for the Full or Half distance, please consider the 5k or 10k race which is held on Saturday morning Sept 16, there is still time to sign up.
For Sunday's Full and Half Marathon participants, PaceSetters will have tents for our members both at the start and finish line. The tent on the grass just west of the starting line will contain 2 private porta potties, water, coffee and race necessities such as Biofreeze, Body Glide, and Band Aids. The tent near the finish line will have water, Gatorade, and sore muscle aids such as yoga mats, foam rollers, and Biofreeze.
A special thank you to Justin Powell who has volunteered his time this summer coordinating these weekly Saturday morning training runs. He has mapped out all new routes this year, preparing route maps and turn sheets, coordinating volunteers at water stations, as well as helping out along the route to keep us runners safe and on track. He did a great job owning this important yet sometimes underappreciated role. Please thank Justin the next time you see him!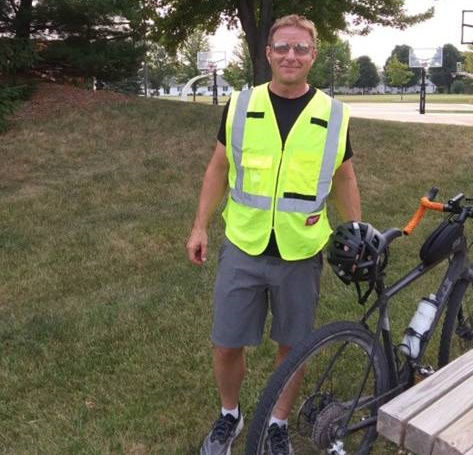 The always reliable Justin Powell out coordinating one of our Saturday morning training runs, while also training for the Wisconsin Ironman, held on September 10.
Race Event
PaceSetters support at Race the Lake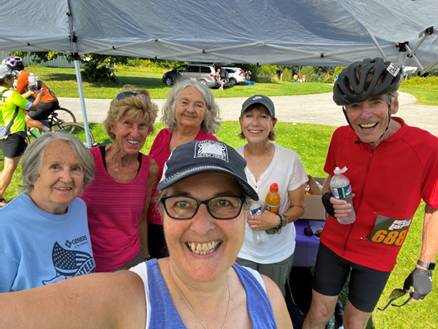 High Cliff Food/Rest Stop #3 - Carol Barr, Sue Erdmann, Sandra Thein, Renee Barr (front row), Linda McDaniel and Jan Peebles (race participant)
Due to the generous volunteer support of several PaceSetter members at the Race the Lake bike race in August, we were able to secure $500 for our PaceSetters non-profit group.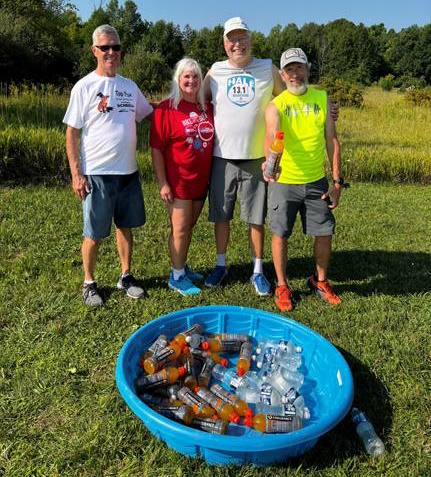 High Cliff Bottle Exchange - Gordy McDaniel, Theresa Larkin, Jeff Faulkner, and Mike Blise. Not pictured: Jody Lingbeck.
Web News
PaceSetters Memberships
PaceSetters is a non-profit but we do require some funds so that we can do things like hosting the Saturday morning training runs at Crunch Fitness and our monthly Fun Runs.
Membership dues are $25 per year so if you have not renewed your membership, perhaps you do us a solid and Sign In and renew your membership?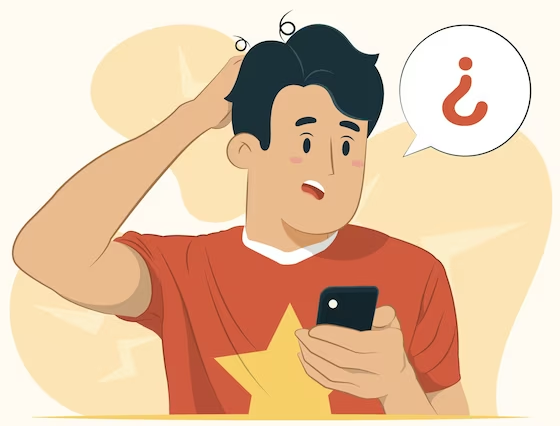 Running News
Courtney Dauwalter is the G.O.A.T.
Courtney Dauwalter has just wrapped up the summer of a lifetime, becoming the first person to win three of ultrarunning's most iconic races in one year.
On June 24th, Courtney won the 2023 Western States 100 in a course record time of 15:29:34. Three weeks later, Courtney won Hardrock Hundred Endurance Run in a course record time of 26:14:08.
Two iconic races, two course records in an unprecendented and impressive Double.
With UTMB Mont-Blanc just one month later, conventional wisdom was that Courtney would miss the race that she won in 2019 and 2021 and holds the female course record.
Courtney is many things. Conventional is not one of them. The Double would become a Triple.
She started the race with the #1 on her bib. She finished in the #1 position with another dominating performance in 23:29:14. Courtney has made history and continues to challenge what is possible in our sport.
Photo: Alexis Berg, Salomon
Cool Stuff
Luggin' & Chuggin' – 2 Unusual Races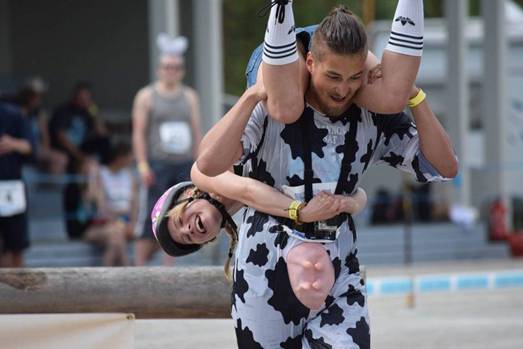 Inspired by historical wife stealing traditions, men carry their wives around obstacles to win their weight in beer
Yes there are real, actual races known as The Finnish Wife Carrying Festival and The Beer Mile World Classic!
This month's newsletter features the Finnish Wife Carrying Festival, held annually in Sonkajärvi, Finland. This may not sound like much, as it is only a 253.5 meter course, but there are both land and water obstacles.
There is a long tradition to this event, where a husband must complete the course while carrying his wife on his back. Dropping or "bouncing" the wife incurs a 15-second penalty (and probably more for the husband).
The prize to the winning couple is the wife's weight in beer. My wife doesn't weigh too much but that would also reduce my beer prize. I recommend you watch video here to see a hilarious account of this bizarre event.
Fun Runs
Next PaceSetters Fun Run – September 13, 2023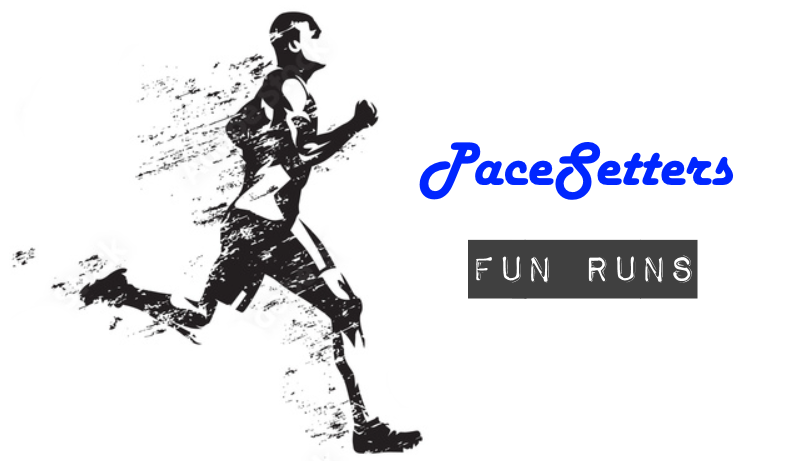 Our next Fun Run will be held at Riverside Park in Neenah on Wednesday evening, September 13, at 6:00 pm.
We will be gathering at the Park Pavilion and then will be using the Fox Cities Marathon 5k and 10k courses.
Stay around afterwards as usual for good food, fun and conversations.
The PaceSetters club is providing the shredded pork and chicken sandwiches, we ask all of our participants to please bring a salad, vegetable, fruits or dessert to pass. Course maps will be provided there.
2023 New York City Marathon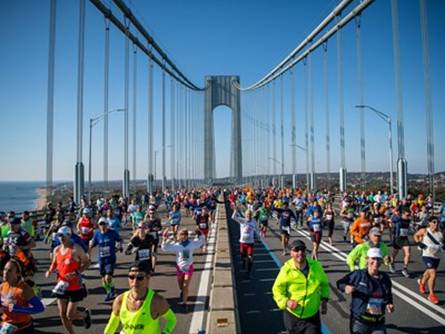 At the 2022 NYC Marathon, there were 47,839 finishers from 131 countries, with an average finish time of 4:50:26
Don't miss the live broadcast of 2023 New York City Marathon on the morning of Sunday, November 5th, from 7:00 – 10:30 CST on ESPN2. Prize amounts for top men and women finishers.
Totaling $534,000 for these top 20 men and women. To be eligible for this prize money you must have a sub 3:10, perhaps some Wisconsin runners are eligible?